Cardi B Has Made It Clear That She Was Happier Before The Fame
From Vine and Instagram videos, Cardi B has risen through the ranks as a rapper, songwriter, and television personality. She earned her a spot as a regular cast member on the VH1 reality television series Love and Hip Hop: New York. She later got into the music scene by releasing two popular mixtapes, followed by the international success of some Billboard-topping songs including Bodak Yellow; I Like It, and Girls Like You. In 2019, her first debut album Invasion of Privacy won Best Rap Album at the 61st Annual Grammy Awards.
Though stardom is something everyone dreams of, since becoming famous, Cardi B has made it clear that it's no cakewalk. Through her candid stories on Instagram and various interviews, she often expresses her struggle with fame, and how it could get depressing and sad. She states how it's hard to handle people talking about her, whether good or bad and how it's inevitable to lose yourself after gaining fame, "making you feel trapped and silenced." Cardi B dislikes the lack of personal life because of her popularity.
She understands the struggles of fame. Cardi B continuously feuds with other famous people, including reality co-stars, fellow rappers, and even lovers. She had physical altercations with two cast members of Love and Hip Hop, Asia and a woman she caught with her ex-love interest DJ Self. Cardi B's song "Be Careful" is a warning to women who try to get too close to her current love interest, Offset. Azaelia Bank and Nicki Minaj were some of the most famous feuds.
Cardi B uses social media and YouTube to retaliate against entities spewing hate on her. The Shade Room, for example, was hit by Cardi B's latest Instagram rant. The rapper stated that The Shade Room only focuses on bad things in her life, instead of showing positive impacts she makes. She claims they mention negative news about those close to her as well, including her husband Offset. She thinks that the magazine writers are not happy with themselves, which is why they are taking jabs at her in the first place.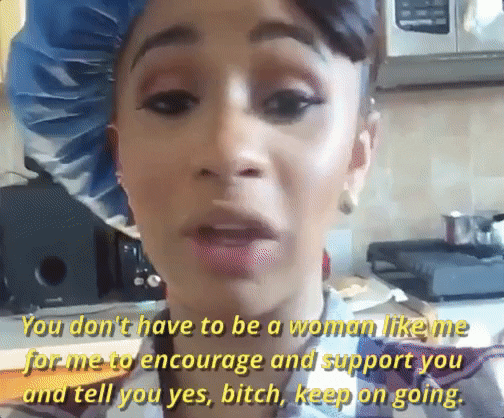 Cardi B should take the successes of fame and live a glorious life. She should forget about all these feuds, and work to make the world a better place. With popularity, there is always negative publicity and writers looking to dig up the dirt. If she wants to reach the heights of superstardom, she should heed the advice and steps of other famous people, and forget the gossip columns. Perhaps a new single with Eminem or Drake could catapult her to new levels of fame. The public is eagerly waiting and watching what will unfold in the Cardi B universe.
WE ROOTING FOR YOU SIS!